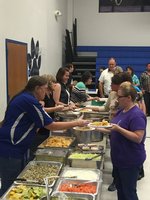 Teachers Stacy Woolsey, Sheila Ferguson, parent Kami Williams, and Board Member Ola Owens help serve the delicious food provided by El Arbol.
On Thursday, April 28, the Elementary Student Council, under the direction of sponsor Molly Oliver, held a silent auction and dinner with all proceeds benefitting the Elementary Library.
Attendees of the auction were able to browse hundreds of donated items, while enjoying live music from local musician Pancake Hill and a full meal provided by El Arbol.
The Elementary would like to thank all of the businesses, organizations, and individuals that donated their goods and services to this cause. Additionally, the Elementary sincerely thanks all who came out to not only bid on great items, but to support the Elementary Library in raising over $5,300 dollars.