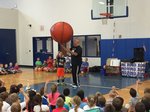 Triston Leonard prepares to spin the jumbo basketball with the help of Generous George.
Generous George Schauer, a Goodwill Ambassador of the NBA D-League team the Texas Legends, visited the students of Wolfe City Elementary on Tuesday, April 26.
Generous George brought to the students his interactive basketball program of fun and tricks, while also instilling a message of character building, respecting others, and the importance of trying one's best in school.